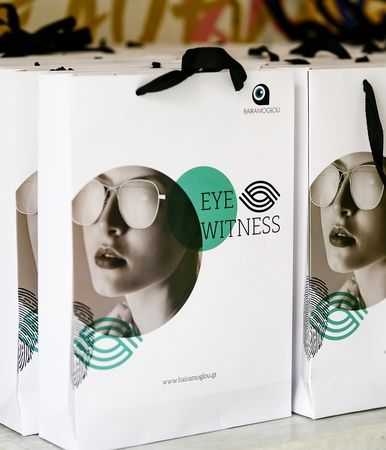 Bairamoglou S.A. is one of Greece's largest optical companies, in both sunglasses and perscription glasses, briging lenses and frames from leading brands around the world.
Having worked with Bairamoglou since 1953, it was our pleasure to be involved in the printing of their materials for their press day event, where we were all 'eye witnesses'.
The glasses were the protagonists of the day, however the brochures asked to be printed had to be a true representation of the actual product the customers would see. The paper quality suggested was velvet, as it brings out the best color quality compared to real life.
Gift bags were handed out to all who attended the press day. The bags had to be durable enough to hold all of the items it was going to contain. The paper suggested was velvet, again for the same reason as it was suggested for the brochures. Velvet is also a FSC approved paper, that is recyclable.